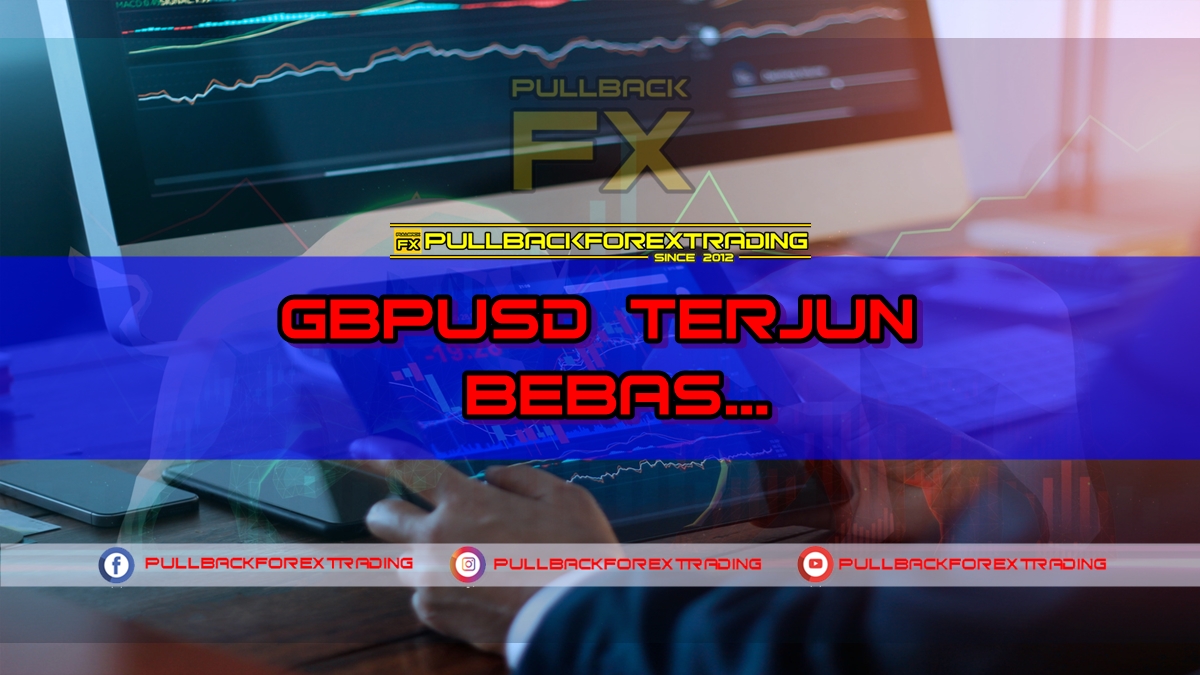 Hari ini 29 hb, nampaknya pair GBPUSD break major support. Secara tidak langsung sudah berikan confirmation plan altenatif sudah trigger dan ada possible ia akan berlanjutan untuk bulan depan pula.
Untuk analisa terdahulu sila ke halaman ini >> https://pullbackforextrading.com/fokus-utama-bulan-september/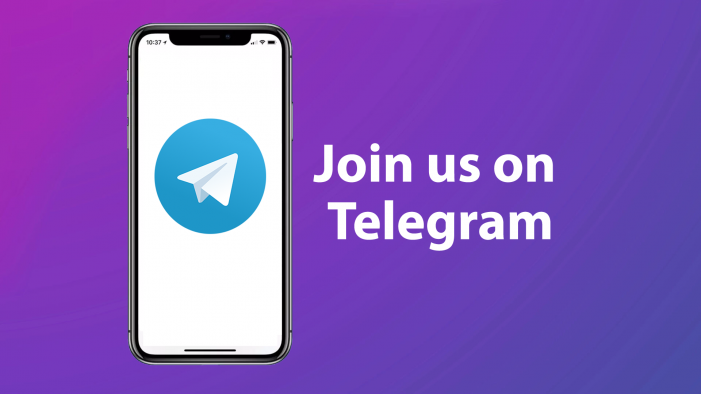 KEMAS-KINI TERKINI
Jom lihat progress setakat ini. Kita mulakan dengan perbandingan sebelum dan selepas.
SEBELUM..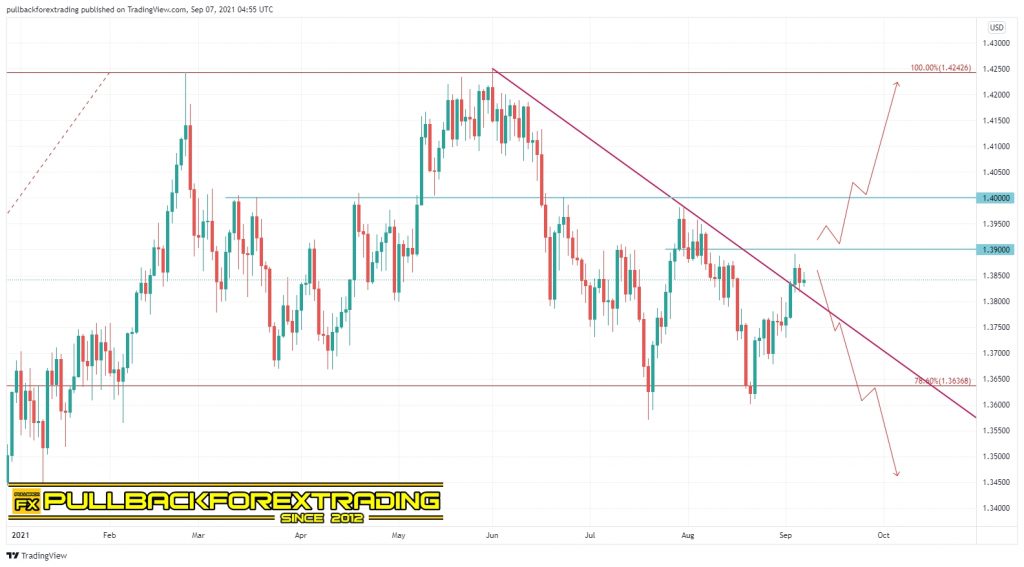 SELEPAS.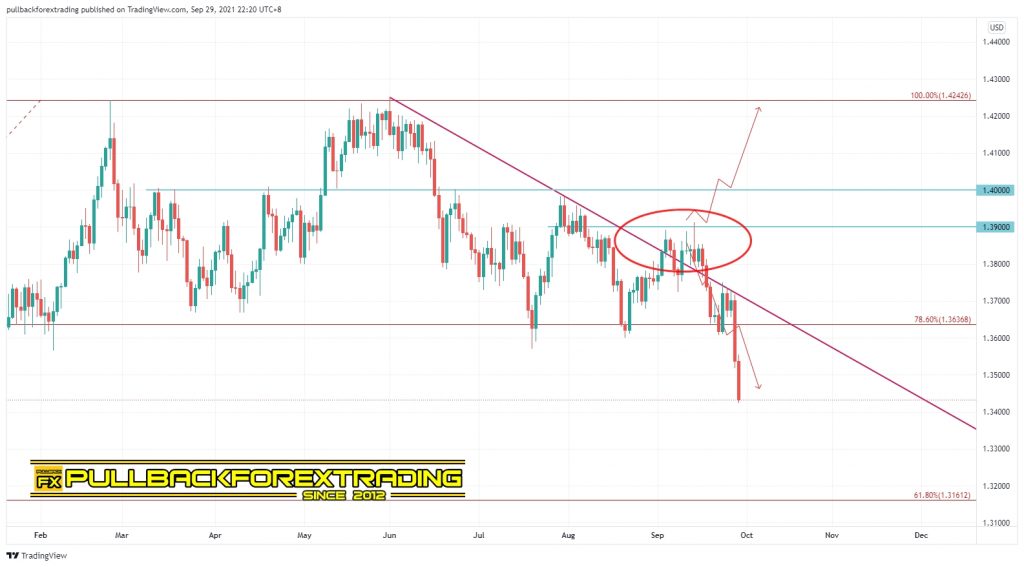 STRONG KEY LEVEL
2 key level penting iaitu 1.3900 dan juga 1.4000 – gagal dipecahkan oleh GBPUSD pada bulan ini. Apa yang berlaku adalah price rebound di bawah 1.3900 sebelum jatuh menjunam.
Berdasarkan ilustrasi gambar 'sebelum', saya ada lakarkan jika price jatuh semula di bawah TL – ia berlaku menandakan price respect DTL sebagai SNR cuma dalam situasi ini ia menjadi RBS kemudian menjadi SBR semula. Oleh itu breakout yang berlaku adalah false break semata-mata.
False break tersebut pula boleh dilihat tanda-tanda awalnya melalui formasi candlestick yang banyak rejected di bawahnya.
Ia memberikan tafsiran bahawa BRN(big round number) 1.3900 adalah strong resistance.

[TAWARAN MENARIK] MODAL PERCUMA $50 UNTUK PEMBACA BLOG PULLBACK FOREX – TAK PERLU BUANG DUIT MELABUR!!
Daftar akaun live di XM dan tuntut bonus tanpa deposit percuma hari ini. Apa yang anda perlu lakukan adalah verify akaun dan tuntut modal percuma anda. SAYA NAK $50 SEKARANG!
Kenapa anda harus memilih kami? :
Free $50 To Start Trading Instantly
Deposit Bonus up to $5,000
Unlimited Loyalty Program
Awards-Winning Forex Broker
Regulated broker
Partnership programs
Leverage up to 1000:1
Spread serendah 0.6
Teruskan sokongan anda agar blog ini terus berkongsi ilmu-ilmu trading yang menarik di masa akan datang dengan membuka akaun melalui pautan gambar di bawah!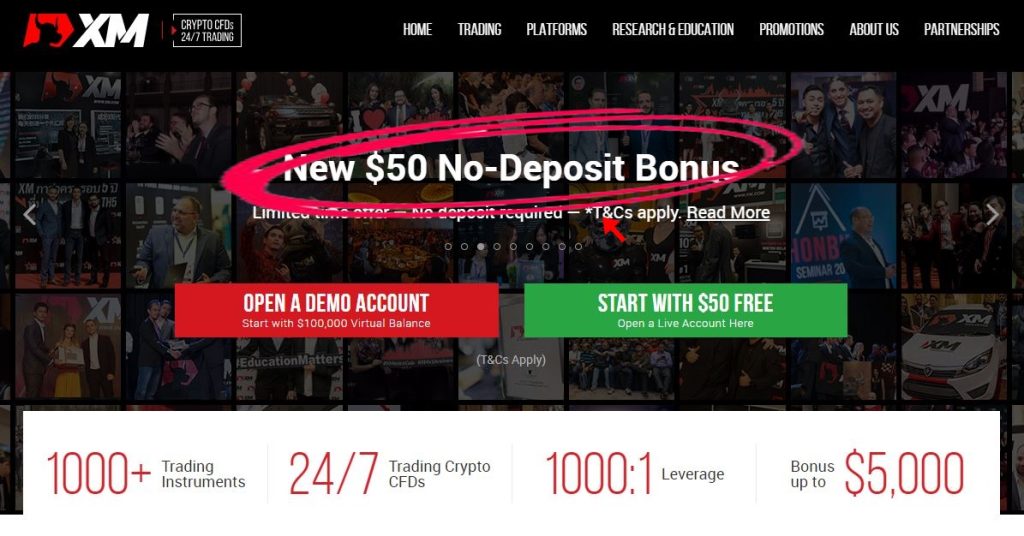 APA SETERUSNYA?
Next BRN adalah 1.34000. Ia akan menjadi strong support untuk profit taking kerana faktor conflunce dengan history lepas sebagai RBS area. Jika berlaku profit taking seller di situ, price akan membuat sedikit reversal.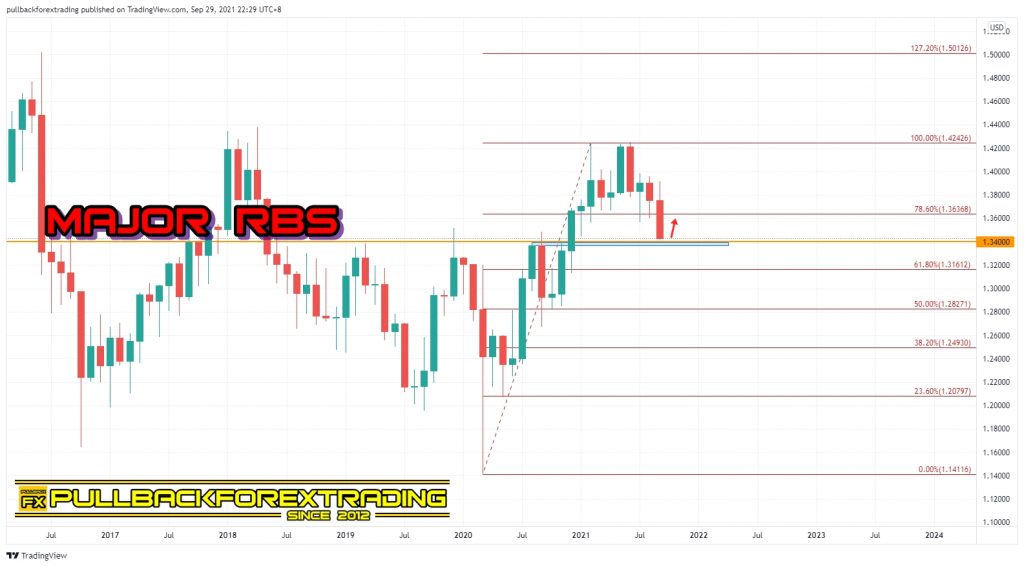 Next fibo level adalah di 61.8% iaitu di price 1.31612.
NEXT MAJOR RESISTANCE
Fibo 78.6 @ price 1.36368 akan menjadi major resistance untuk selling pair ini. Lebih cepat price naik ke area ini awal bulan hadapan, maka ia akan lebih lagi untuk turun lebih jauh sepanjang bulan.
Artikel ini akan dikemas-kini pada fokus bulan Oktober 2021.
Stay tune!
ADMIN
29/09/21